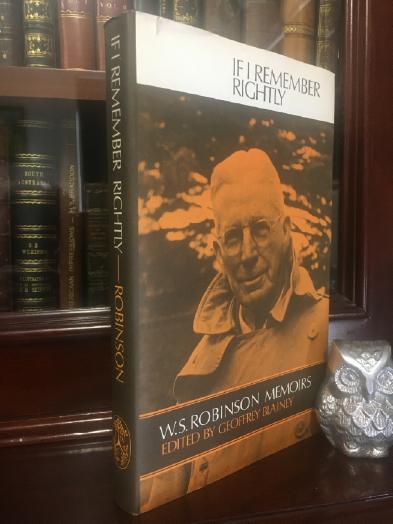 Author: ROBINSON, W S.
Title: If I Remember Rightly.
Subtitle: The Memoirs Of W. S. Robinson 1876 - 1963. Edited by Geoffrey Blainey.

Description: First Edition; Med. 8vo; pp. 234; b/w portrait frontispiece, 6 b/w. plates, editor's note, index, bound in original black cloth, title lettered in silver on spine, dustjacket with minor chips on edges, very good copy.
Comment: For fifty years W. S. Robinson linked Australian mining and metals with British money. A Scarlet Pimpernel of Anglo-Australian finance, he oscillated between and around Australia, the United Kingdom, the USA, Canada, India and Burma, never resting long anywhere, shunning publicity and unobtrusively shaping Australia's and to some extent Britain's economy in the twentieth century.
Publisher: Melbourne; F. W. Cheshire; 1967.

Price: AUD$120
Book ID: 114205