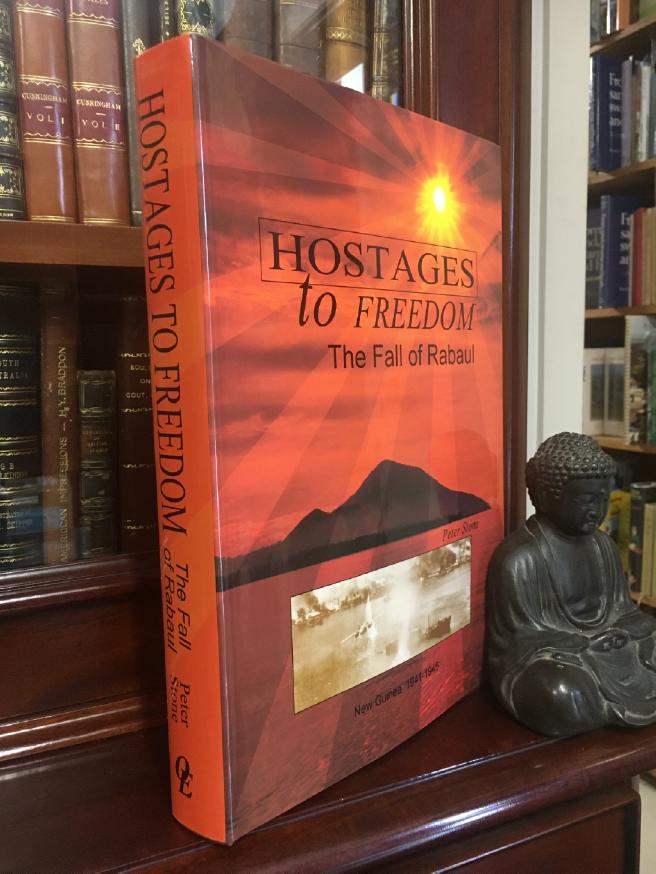 Author: STONE, PETER.
Title: Hostages to Freedom: The Fall of Rabaul.

Description: Med. 4to; pp. [xii],vi, 513, (58); endpaper maps, illustrated title page, text illustrated with numerous b/w. photographs and maps, references and bibliography, index, bound in original maroon cloth, title lettered in gilt on spine and upper board, dustjacket, fine copy.
Comment: The book documents the turbulent war years of Rabaul, Papua New Guinea, from 1941 to 1945, and the subsequent post war period of land and sea salvage. It covers the complete picture - the landing of the Australian Lark Force garrison in 1941; the pre-invasion bombing; the invasion and defence of the harbour; the Australian soldiers and civilians on the run; the horrific Tol massacre, and the extraordinary escapes of six hundred soldiers and civilians; the loss of Australian prisoners on the Montevideo Maru; the remarkable Bishop Scharmach and the plight of the missionaries; the Japanese occupation and the construction of over three hundred kilometers of tunnels; the bombing and isolation of the Japanese garrison; enemy operations from Rabaul including the battle of the Bismarch Sea; the execution and suffering of Chinese, Indian, American, British and Australian prisoners of war; the rescue of downed airmen by Allied Intelligence Bureau coast watchers; guerilla warfare in the jungles of New Britain; the subsequent surrender and occupation by Australian forces; the salvage of shipping; and the ships and aircraft that remain in the Gazelle Peninsula region.

Publisher: Yarram, VIC; Oceans Enterprises; 2006.

Price: AUD$400
Book ID: 116242